What is Oily Skin? 
Oily skin occurs when one's sebaceous glands produce too much sebum, leaving the skin looking and feeling  oily. Whilst sebum is naturally produced by the body to help protect the skin and keep it hydrated, too much of it could lead to breakouts, as the pores become clogged with bacteria, and it can cause the complexion to look shiny.
There are a variety of factors which may lead to oily skin and often no single reason can be to blame, however, there are ways to help address and manage an oily skin type. Factors that may result in overactive sebaceous glands include genetics, age, hormones, climate, season change, sun damage, pollutants, lifestyle habits, using incorrect products or using your products incorrectly, and many other aspects. Listed below are some of our essential tips for managing an oily skin type.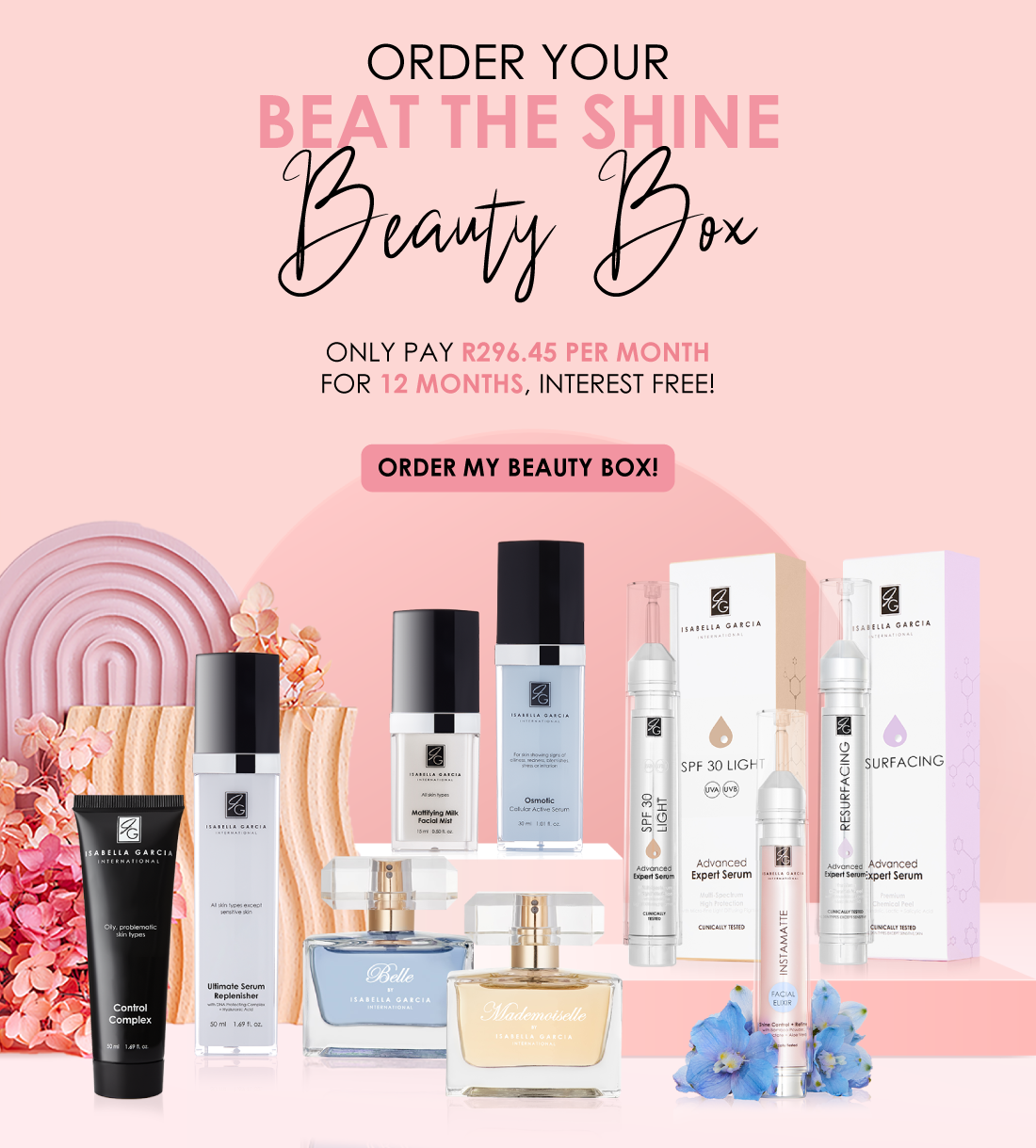 7 Essential Tips for Managing Oily Skin: 
1. Use Skincare Designed for Oily Skin
Often it is incorrectly assumed that the solution for oily skin is to wash your face more and moisturise less, however, this could be having the opposite effect as your skin may produce even more sebum to try and overcompensate for the lack of nutrients and hydration. Instead, utilise skincare that has been created to help control oily skin, so that your skin can still receive nourishment without increasing oiliness. A product that was specifically designed to help balance the skin's natural moisture levels, to prevent excess oil whilst still offering nourishment, is the Control Complex. The plant extracts, targeted ingredients and humectants contained in this formulation assist in reducing oiliness and minimising the appearance of enlarged pores, for a perfectly nourished yet mattified finish.
2. Include Specialised Care into Your Skincare Routine 
The first step to beautifully cared-for skin is always a simple routine of cleansing, toning and nourishing, however, to address your skin's specific concerns and needs, it is important to also utilise targeted care to help give your skin exactly what it needs. For achieving a beautiful, shine-free complexion, we recommend the following trio of revolutionary serums:
Osmotic Cellular Active Serum – Created for skin showing signs of oiliness, redness, blemishes, stress or irritation, this state-of-the-art serum encompasses an array of targeting ingredients to help achieve an effortlessly blemish and shine-free complexion.
InstaMatte Facial Elixir – Containing Bamboo Powder and Zinc Lactate to create a two-fold mattifying effect – one that helps to reduce shine and another that continues to absorb excess oil from the skin throughout the day – this remarkable elixir works to gently encourage soothed and refreshed skin with a natural glow, without an oily shine.
Ultimate Serum Replenisher – With a mattifying and anti-ageing effect, this unique serum aims to leave your skin looking and feeling restored, more youthful and shine-free.
3. Wash Your Face and Body with Temperate Water 
Hot water can damage the moisture balance of the skin, resulting in either oily or dehydrated skin. For optimal results, wash your face and body with water that is around body temperature and lightly pat dry with a clean towel or microfibre cloth.
4. Avoid Excessive Face Washing and Scrubbing 
The solution to oily skin is not to wash or scrub your face more regularly or to apply more force whilst doing so. Despite your skin type, only wash your face 2-3 times per day and, to avoid over-exfoliating or damaging your skin, only use a face scrub 2-3 times per week and be gentle when applying it. With its unique combination of professional chemical exfoliants and activated warming effect, the Resurfacing Advanced Expert Serum is designed to help optimise the natural shedding process of skin cells and remove any dead skin, perfectly preparing the skin for the application of specialised care products. As this serum makes use of chemical not mechanical exfoliation, no pressure is required when using the product, reducing the risk of applying too much force and damaging your skin.
5. Apply an SPF 
'Apply an SPF' is one of the single most important tips for healthy skin, despite your skin tone, age or type. Even from sources such as indoor lighting and electronic screens, light can still have a damaging effect on your skin, making it imperative that one applies sunscreen daily, regardless of the weather, time of year or if you are going to spend time outside. The SPF 30 Light Advanced Expert Serum contains a state-of-the-art UV filter combination (UVA and UVB) to provide optimal photo-protection against the harmful effects of the sun, Infra-red and HEV Blue Light wavelengths whilst offering an immediate aesthetic enhancement of your complexion.
6. Mist Throughout the Day 
One of the most frustrating aspects of oily skin is feeling self-conscious about a greasy complexion in public and being unable to do anything about it. Constantly trying to touch and wipe your skin can lead to increased breakouts and other skincare concerns. To help manage an oily complexion on the go, the Mattifying Milk Facial Mist is the ultimate solution! This soft-focus mist helps to induce a shine-free, beautifully harmonised matte complexion in seconds. Quick and easy to use, a couple of sprays of this mattifying mist will help to leave your skin looking and feeling balanced and non-greasy, allowing you to step out in confidence.
7. Keep Your Lifestyle in Check 
Your skin is your body's largest organ, therefore, when it comes to your skin, you really are what you eat! While targeted skincare (applied topically, directly to the outermost layer of the skin) is crucial, nourishing your skin from within is also necessary for a healthy, balanced complexion. Studies have found that consuming too much salt, sugar, red meat, fried foods, alcohol or refined carbohydrates has been linked to overproductive sebaceous glands. Other lifestyle factors that could disrupt the balance of your skin's moisture levels include spending too much time in the sun without proper protection, not getting enough quality sleep, smoking, unmanaged stress and not changing your towels or pillowcases regularly. To keep your skin looking and feeling healthy, monitor your lifestyle choices and take some extra time to nourish and care for yourself, your skin will thank you!
Find Out More
At Isabella Garcia, our mission is to give women and men everything they need to be their best and most beautiful selves. We understand that oily skin is a concern that may detract from one's confidence, therefore, we have created the ultimate Beat the Shine Beauty Box, which includes everything you need to help achieve mattified skin that looks youthful, full of life and shine-free! Containing seven specialised skincare and make-up products, delivered directly to your door, the Beat the Shine Beauty Box is the ultimate solution for someone who is on the go but who also desires flawless skin. Along with your Beauty Box, you will also receive a free Fine Fragrance Collection, worth R1 610 and you will qualify for Ambassador benefits, including specialised beauty advice from our expert Beauty Consultants. Your beauty journey awaits…